Healthcare organizations recognize the value of remote care, and patients and providers alike are increasingly embracing digital health technologies. Various factors are driving increased interest in RPM technologies, like consumer demand for digital health tools, and reimbursement code availability for remote patient monitoring.

It is important for providers interested in implementing RPM programs to have an understanding of the different types of remote monitoring devices available.


Connected medical devices can transmit data to/or receive data from another device or the Internet, for example, a Bluetooth® scale transmitting data to a smartphone app.

The most common device types available include;
Wi-Fi

®

devices
Cellular devices
Bluetooth® devices
Non-connected devices
We've outlined summaries of the different device options, and considerations for each.
Wi-Fi® Devices
Wi-Fi devices connect directly to your Wi-Fi network to sync data. Wi-Fi is used widely in homes, public areas, and businesses. While Wi-Fi may seem like it is widely available, a recent study showed that 42% of American seniors do not have in-home Internet access. Connectivity can also be lacking in rural areas and for those economically disadvantaged.
Pros
Unlike Bluetooth devices, Wi-Fi devices do not need to be used with a companion / additional smart device to capture and transmit data. Data will be synced to the cloud as long as the device has Wi-Fi signal available.
Most have an associated app to view data
Automatic data capture / sync
Cons
Generally cost more
Complex setup required with multiple steps
Limited device type options. Scales and blood pressure monitors are most common, hard to find other device options.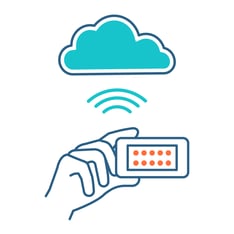 Cellular Devices
Cellular medical devices use the cellular network (same network as cell phones) to transmit data to the cloud using 3G, 4G, and 5G connectivity. Devices include an embedded SIM or modem, so no setup is required. While cellular coverage is reliable in urban locations, some rural areas may still experience connectivity issues.
Providing a patient with connectivity, and a solution that works without any setup, can increase compliance and satisfaction with a program.
Pros
No setup on behalf of the patient required
Higher compliance due to reliable connectivity
Ease of use - patients simply take readings
Cons
Not a good option for some rural locations or other areas with limited coverage
Typically more expensive
Limited device type options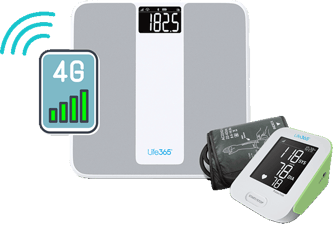 Bluetooth® Devices
Bluetooth is the connectivity between devices. Bluetooth medical devices use a short range frequency to transmit data to another device connected to the Internet / cellular network to transmit the data to the cloud.
Bluetooth devices can be utilized with companion devices such as smartphones and tablets, or cellular hubs to transmit data. Some cellular hubs and Tablets can eliminate the need for patients to download apps, or pair devices to a companion device, maintaining ease of use.
RPM programs will often include a "health kit" that includes a smart tablet paired to multiple Bluetooth medical devices, like a scale, blood pressure monitor, and pulse oximeter. The smart tablets are oftentimes "locked down" so patients can only access certain applications and functionality, and the tablets include cellular connectivity and/or Wi-Fi capabilities.
Pros
Can be used with a companion device that is Internet connected OR cellular connected to transmit data
Typically less expensive
Many device types and manufacturer options
Can be used with a companion device that has enhanced functionality and patient engagement applications like two-way video
Cons
Set up can be complex if device pairing is required
May require an app for pairing
Requires companion device to have access to Internet or cellular connectivity to transmit data
Companion devices increase costs
Medical device readings must be near companion device for readings to be captured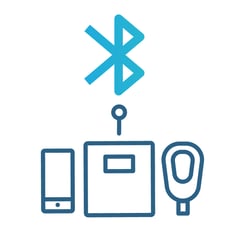 Non-connected Devices
Non-connected medical devices do not have enhanced connectivity capabilities to sync or transmit data. With these devices, data can be recorded manually, because there are no capabilities for automatic data integration.
Non-connected devices can be used in programs that have capabilities to report manual data entries. For example, an application that allows patients to manually enter their measurement readings that can then be transmitted for review by a provider. Another example could include IVR / automated phone calls made to a patient that prompts them to manually enter their measurement reading, which is then recorded for clinician review.
It is important to note that non-connected devices do not qualify for reimbursement through the RPM CPT® codes, data must be automatically captured to qualify for reimbursement.
Pros
Widely available, and patients can use devices they may already own
Variety of device types and manufacturers available
Least expensive option
Cons
Errors with data entry can occur
Not reimbursable through RPM CPT codes
Additional steps patients must take to report and transmit data to providers
Summary
The various medical device options present their own sets of positives and negatives, and decisions for which device types to utilize can be affected by various factors such as; budget, ease of use, age of patient population, location of program participants, cellular/Wi-Fi connectivity, disease states to be included, etc.
The objective of a remote patient monitoring program is to improve patient health, enhance access to care, and provide additional data insights to clinicians. Clinicians should not be burdened with connectivity issues, complex patient setup, providing extensive technical support, or being experts in device troubleshooting.
Finding the right option for a population is key, and an appropriate solution will help ensure patient compliance and program longevity.
Choosing the Right RPM Vendor
Healthcare organizations with high rates of program sustainability and success utilize full-service RPM vendors to manage the technology, logistics, technical support, and training.
Life365 provides full-service RPM solutions to healthcare organizations, removing barriers to implementation for both providers and patients.
Ready to discuss your remote monitoring goals, and enhance care for your patients? Contact us at 888-818-2322 or click here to schedule a consultation with a remote monitoring expert from our team.