Scottsdale, AZ — Life365 and JACS Solutions announce their collaboration to provide customizable, cost-effective, trusted and scalable solutions to service remote healthcare management for patients at home and other non-traditional points of care.
The partnership will help address the increased demand for telehealth and other virtual healthcare solutions, along with the immediate concern around the stress on healthcare professionals resulting from COVID-19.
Life365's Virtual Care Platform streamlines integrations and solution deployment, enabling healthcare providers and payers to implement and maintain remote patient monitoring programs efficiently and economically. JACS Solutions develops customized and secure smart devices, touch displays and industrial IoT solutions for enterprises, integrators and VARs.
Together, along with other key partners, the companies provide healthcare professionals, population health managers, home health agencies, and clinical trials with a one-stop, integrated platform to efficiently connect with populations outside of the clinical setting, securely manage patient health remotely, and ease the burden on frontline care workers.
Increasing strain on health systems, including COVID-19, has driven increased reimbursement and expanded protocols for telehealth. The global pandemic has been a catalyst that stressed the need and importance of virtual care.
"JACS is a perfect partner to add to the Life365 Virtual Care Platform", said Kent Dicks,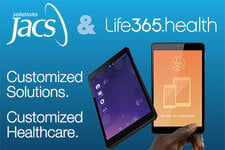 CEO of Life365. "This partnership ensures that we have seamlessly connected solutions to provide patient services outside the traditional point of care. With the COVID-19 pandemic, health systems are giving us the signal that we need to be prepared for Fall / Winter 2020 and beyond, helping to take the pressure off of already burdened resources. Our partners, American Medical Response (AMR), BlueStar SeniorTech, Avixena and others have formed an alliance that will help provide connected alternate resources for care in this critical time".





"It comes with great privilege and excitement to announce our partnership with Life365, a recognized leader and pioneer in the telehealth space", said Rattana Chhay, VP of Operations at JACS Solutions. "Life365 will leverage JACS technology in their remote patient monitoring ecosystem, by our proven technology together we can improve patient care that equips physicians and medical institutions with an easy to use, HIPAA compliant platform that effectively manages patients' health. This allows medical providers the ability to prioritized care which improves patient outcomes and reduces healthcare delivery costs."
"Telehealth has played an essential role in containing the spread of COVID-19, a fact that cannot be ignored", explained Chhay. "At JACS, we have always believed that it is important to leverage our technology to allow care for patients where and when they need it, as well as, understanding what they need" added Chhay. "Therefore, our partnership with Life365 is paramount and allows two great companies with a shared vision of driving better healthcare while staying patient-centric especially those with chronic diseases."
The Life365 and JACS partnership goal is to provide enhanced integration of virtual care solutions and services that address the changing dynamics in healthcare while providing better to excellent care – anywhere, anytime.
For more information about Life365, visit www.life365.health. For more information about JACS Solutions, visit www.jacs-solutions.com.
About Life365
The Life365 Virtual Care platform integrates health systems with healthcare solution / service providers and logistics companies to deliver a one-stop, integrated platform for engaging a growing patient population at home – and beyond. The platform enables health professionals to remotely manage patients with a variety of disease states, and offers consumer apps for self-management and health and wellness. Life365 is headed by an industry recognized, experienced "Connected Health" team, whose previous RPM Company was acquired by Alere (now Abbott) in 2012. For more information, visit www.life365.health.
About JACS Solutions
JACS Solutions designs and manufactures custom-built, commercial-grade Android and Windows connected devices, touch displays, and industrial IoT solutions. One million JACS products have been deployed in 55+ countries by leaders in healthcare, transportation, retail and more. JACS Solutions differentiates itself by providing customized and affordable hardware and device software. Customers gain peace of mind from highly-secured, single-purposed devices, and achieve lower cost with long product life cycles. For more information, visit www.jacs-solutions.com.