Life365, a leading provider of innovative, virtual care technology solutions, today announced they will present a panel at HIMSS 2023 to discuss the future of healthcare delivery using alternative models for providing and accessing care.
Life365 Founder and CEO, Kent Dicks, will be joined by Gregory Lisiak, Microsoft Director, Digital Health Strategy and Innovation, and Anthony Capone, CEO of DocGo. The panel presentation titled, "A Virtual First Approach to Augment Consumer Care Delivery at Home," will examine how healthcare enterprises and consumers can benefit from an initial Virtual First care model, taking pressure off of critical healthcare resources, while providing the latest on-demand services for consumers in their daily health management and treatments. HIMSS23 will take place in Chicago at McCormick Place, April 17-21. The panel discussion is scheduled for Tuesday, April 18th @ 3 pm in room S501.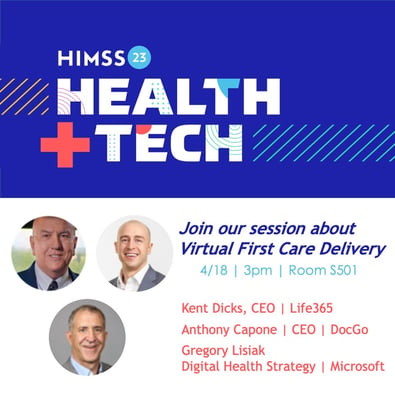 "Due to changes in financial models and healthcare resource shortages, it is more critical than ever to bolt onto the front-end of patient care systems to provide an integrated, connected platform into the patient's home to gain early insights and situational awareness," said Dicks. "This virtual first approach enables "Just-in-Time" care with fast response teams in a proactive manner, instead of waiting until the patient degrades to a more costly state, needing to visit the ER / Hospital."

DocGo is a leader in providing mobile health services, including paramedic-led home visit services and medical transportation. Their services extend the traditional four-wall healthcare system by providing high quality, affordable care to patients in the comfort of a patient's home or workplace, bridging a gap between physical and virtual care.

"I am looking forward to the opportunity to discuss a critical topic - virtual first and mobile first care," said Capone. "We can truly reinvent the way that healthcare is thought about and delivered in America."

Gregory Lisiak, Microsoft Director, Digital Health Strategy & Innovation, will provide an overview of cloud-based integration options that healthcare organizations can leverage to simplify the workflows and administrative processes associated with providing virtual care.

To learn more and register for the HIMSS23 Global Health Conference & Exhibition visit https://www.himss.org.

To learn more about Life365, please visit www.life365.health. To schedule a meeting with our team at HIMSS23, click here.
END

About Life365
Life365 is an omnichannel, Virtual First Care Platform that enables healthcare delivery at home. The platform addresses key care delivery challenges by providing scalable solution integration and logistics to enterprise healthcare organizations that enable connectivity, engagement, and improved outcomes for their growing patient populations at home. The platform provides a single integration point that enables providers, payers, and others to utilize a proactive virtual first approach to remotely manage and monitor patients with a variety of conditions and needs including: CCM (chronic care management), transitional and post-discharge care and population health.

Life365 is led by an experienced, industry recognized connected health team. Life365 is a major patent holder of wearables, sensors and patches driven by machine learning / AI, to drive the next generation of remote patient monitoring to scale.