Meet Kendall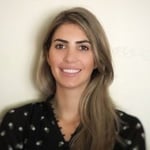 Kendall, a 32 year old woman, was diagnosed with gestational diabetes. Prior to her pregnancy, she had no ongoing health issues. Kendall feared she would not be able to manage her diabetes, having no prior experience or education regarding diabetes.


Struggling to Manage Diabetes
After her diagnosis, she was referred to a diabetes educator for a one hour education session. The education session provided a brief overview on diabetes, but she was still unsure on how to best manage her diabetes, and felt she was not prepared to be successful.

At a follow up appointment with her provider, it was evident her sugar levels were not being controlled well. The provider asked Kendall to share a few glucose reading measurements. As she scrolled through her readings on the glucose meter, she struggled to share data points and trends with her provider. Based on the few data points provided, her doctor prescribed medication to help manage her glucose levels. Kendall felt her struggles were due to a lack of knowledge on diabetes management and how to self manage and monitor her glucose levels.

The medication left Kendall feeling very ill, and she was determined to see if she could manage her diabetes with diet and exercise alone. She just needed a little support, and a way to easily share her glucose reading information with her doctor. She contacted her provider's practice, and asked for a trial period of diet and exercise management alone. The provider agreed, and asked Kendall to submit readings and information in two weeks time for review.


Learning to Successfully Self Manage
Kendall downloaded the Life365 Health App in the app store. She found she was able to pair the Bluetooth glucose meter the pharmacy provided her with the app. Her readings would automatically transfer from the glucose meter to the mobile application. She would take glucose readings at least four times a day, fasting in the morning, and then after meals.

"I was able to take notes within the app for my readings. I would record what I ate in the app, so I could refer back to a reading and determine what dietary changes I needed to make, and how certain foods and portions affected my sugar levels."

After the two week trial period, Kendall was able to export her glucose readings directly from the app, and email them to her doctor for review. It was determined her glucose levels were controlled enough that she did not need to take medication.

"I was able to quickly show my provider my percent of in-range readings with an easy to read chart. It made me feel more confident that my doctor had a clearer picture of my actual health status between our visits."

With the help of the Life365 Health app, Kendall was able to better monitor and manage her diabetes, and easily share data with her provider for the best possible clinical decision making.